Ørsted inked cable installation contract with Woen-Jinn
2018-09-12T10:00:00.0000000Z
First major contract awarded for Greater Changhua projects
Global offshore wind leader Ørsted today signed a construction contract with Taiwanese supplier partner Woen-Jinn Harbour Engineering (WJ) for Greater Changhua projects' array cable installation. The contract is grounded in the solid collaboration between both parties over the past two years and includes the provision to allow WJ to invest in a new-build cable laying vessel. This will enable them to become a competitive offshore wind cable installation supplier throughout Asia in the future.
The contract with a value of NT$ 1bn requires WJ to install a significant scope of array cables and will secure substantial work for the projects to be constructed in 2021. The special financial arrangement included allows WJ to invest in the state of the art cable lay vessel "WoenJinn#7".
Today's contract is further evidence of Ørsted's dedication to developing local suppliers for the Taiwan offshore wind industry. Matthias Bausenwein, Ørsted's General Manager for Asia Pacific, said: "developing a local supplier in Taiwan requires significant resources and efforts from all aspects, such as commercial, technical, QHSE standards, and even financial support. Ørsted Taiwan feels proud to partner with WJ and has gone extra miles in taking the collaboration to the next level."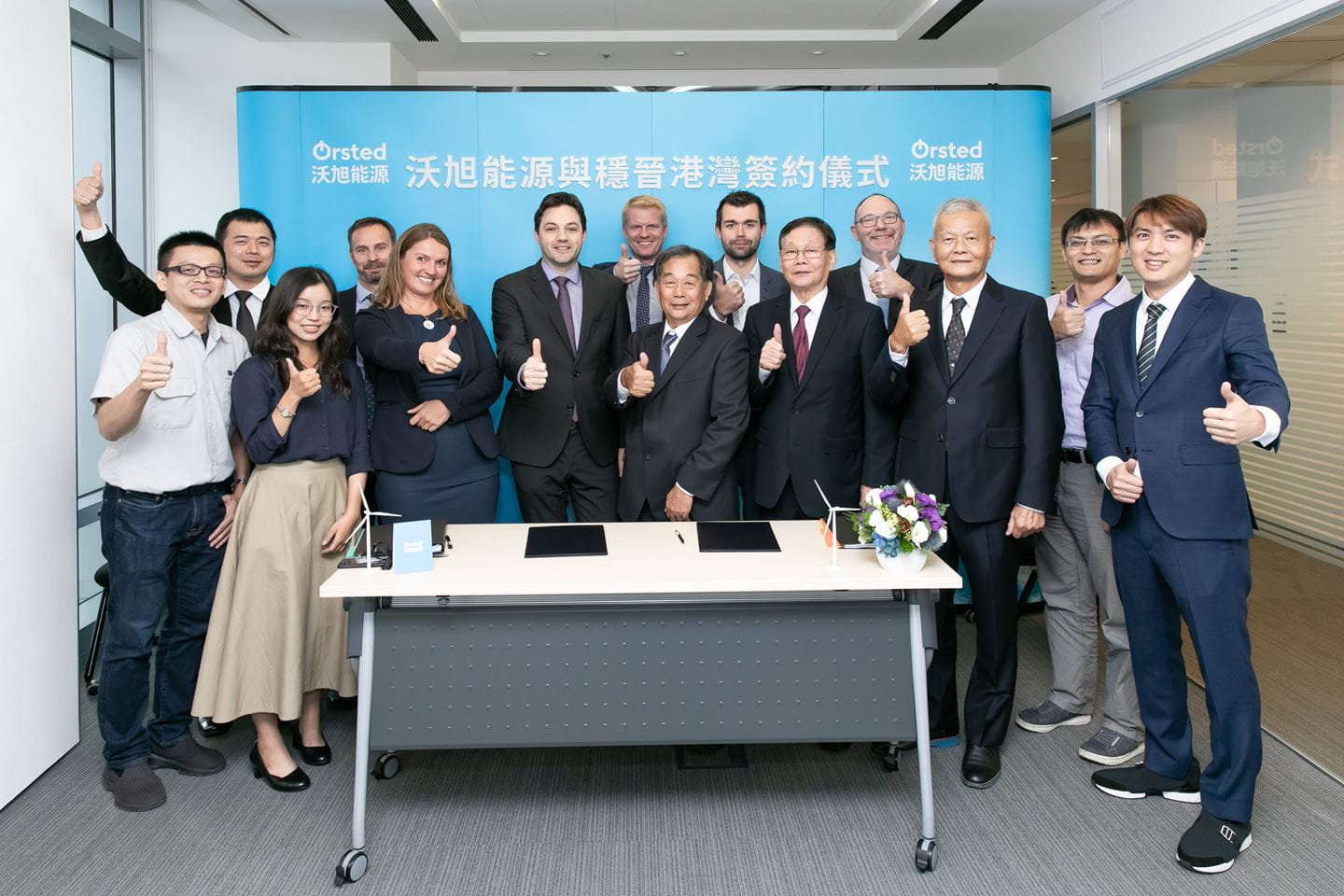 Ørsted has set up a dedicated team of 5 full-time and 5 part-time specialists to work and exchange knowledge with WJ in developing all required standards and competences for this project. During the past two years, Ørsted has visited WJ regularly and invested significant time and effort in cultivating WJ's capabilities to become the only qualified offshore cable installation supplier in Taiwan. Since working with Ørsted, Woen-Jinn has hired an additional 20 staff and is planning further recruitment of staff to help deliver the array cable contract. Woen-Jinn has also indicated that, as a local cable installation company, WJ will take the responsibility to promote local talent as well as strengthen the development of local industry chain.
To attract and train more young talent for the offshore wind industry, WJ has signed a Memorandum of Understanding with National Kaohsiung University of Science and Technology and is in the discussion on academic collaboration with National Taiwan Ocean University and National Cheng Kung University. WJ will provide full scholarships to students interested in marine engineering as well as internship opportunities from 2022 onwards.
Bausenwein added, "We believe that this collaboration will not only bring more opportunities to Woen-Jinn in Taiwan, but it will also support our partner to become a competitive offshore wind cable installation supplier in Asia. We look forward to supporting more Taiwanese companies to develop competence and capability in offshore wind. "
Ørsted signed a Memorandum of Understanding with Woen-Jinn in November 2017, followed by several collaborative workshops on commercial, technical & QHSE topics, resulting in a signed Letter of Intent in May 2018.
Established in 1985, Kaohsiung-based Woen-Jinn is the leader in offshore cable installation in Taiwan. It has a good track record in undertaking big offshore telecommunication and power cable installation projects in Taiwan. Woen-Jinn also completed the offshore cable installation for phase one of the Formosa 1 project, the first offshore wind project in Taiwan.
About Ørsted in Taiwan
Ørsted has obtained site exclusivity on four offshore wind sites located between 35 and 60km from the shore of Changhua County. The four sites, which have a total potential capacity of 2.4GW, received environmental impact assessment approvals in February 2018. Subject to Ørsted taking final investment decision, a total of approx. 1.8GW have now been earmarked for buildout in 2021 and 2025.
Ørsted is also the co-owner of Taiwan's first commercial-scale offshore wind project, Formosa 1, which will be extended from its current 8MW capacity to 128MW in 2019.
As the world leader in offshore wind, Ørsted has installed more than 1,200 offshore wind turbines with a total capacity of approx. 5.1GW and has a further 3.8GW under construction. It is Ørsted's ambition to have installed a total offshore wind capacity of 11-12GW worldwide by 2025.
For further information, please contact:
Ørsted Asia-Pacific Media Relations
Rachel Chan
racch@orsted.com
+886 933 529 367